End of Summer Gathering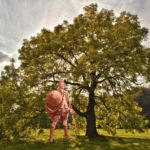 In der Hoffnung noch einen Zipfel des fliehenden Sommers erhaschen zu können und uns dabei auf einen goldenen Herbst einstimmend, wollen wir uns am 2. Oktober mit froher Stimmung zum Gathering der Clansmen einfinden. Alex Kreit wird mit einer kleinen Folk-Band für den schottisch-irischen Background sorgen, in welchem wir uns auch wieder bewegen können. Unser High Steward Harry sorgt für den schottischen Atem und Olaf wird sich in bewährter Weise um unser sonstiges leibliches Wohl kümmern.
Also, come on ye lasses and lads!
Termin vormerken und anmelden nicht vergessen, wie immer unter info@the-clansmen.de. Wir hoffen auf eine rege Beteiligung.
Zeit: 02.10.2021, 17:00
Ort: The Clansmen-Lounge
Bitte steckt den kleinen Kostenbeitrag von 10 € p.P. in eure Taschen.